Is making candles without the help of a thermometer possible? Would you be able to do it just by looking or by trusting your gut feeling?
Technically you don't need a thermometer to make candles. Wax melts at 200 degrees, so you can gauge the temperature when your wax has melted, which means it has reached the temperature of 180 to 200 degrees. However, this might be risky because a precise temperature is needed in all four candles making stages.
Do you dream of creating your own beautifully scented candles that put store-bought ones to shame? Are you tired of feeling envious of those who effortlessly craft stunning candles for their homes or businesses? If so, we have the perfect solution for you! Candle Making 4 You™ is a comprehensive step-by-step guide that will turn you into a master candle maker – whether you're a complete beginner or an experienced hobbyist. This system will teach you everything you need to know to create candles that look professional and smell amazing.
You might read on some forums online that you do not really need to use a thermometer for making candles. I also wondered about this before diving into candle making, but I quickly realized that it is impossible to do it without it.
If someone would ask me, what is the most important part of candle making, I would, without a doubt, say temperature. What I mean by that is the heat you melt the wax, at what temperature it was poured, and finally, what temperature your candles are cooled off. And without a thermometer, you will most likely end up with cracks, sinkholes, and tunnels, basically a disaster.
Do you need a thermometer to make candles?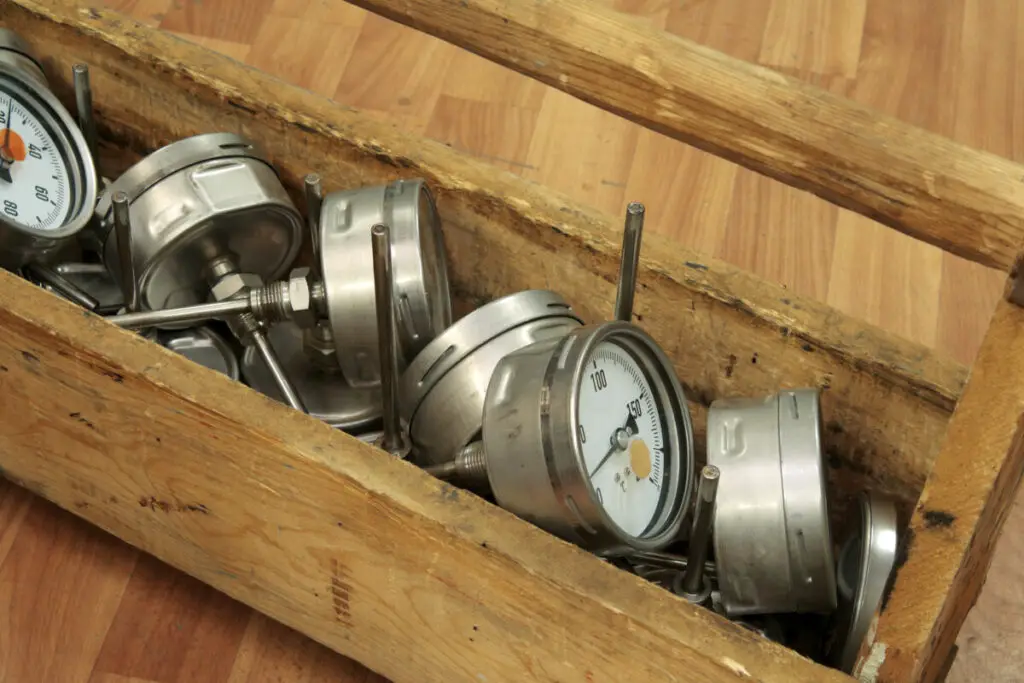 I do not know any expert who is not using a thermometer, and I think there is probably a very good reason for that. Purely working by "eyeballing" (like you would do when cooking, for example) is not a good idea, especially when it comes to things that need to be done at a specific exact temperature.
If we would look at the candle-making process, there are four stages, each of which needs a precise temperature to get to the next stage. If you fail at one of them, you will most likely end up with a failed batch or, at least, not with an optimal result.
For example, if you pour your candle at the wrong temperature, you will have difficulty getting it out of the mold afterward. Or overheating it, which might combust if it's near a spark or flame (AKA the flashpoint of the fragrance oil). And, if you plan on selling your candles, it is even more crucial to have the perfect end product.
So, the bottom line is the thermometer is a must if you wish not to take any risks and/or end up with a bad batch.
Can You Use Any Thermometer for Candle Making?
Technically you can use any thermometer to make candles. Some types are better suited, such as an infrared thermometer, because it gives a more accurate reading, or a metal thermometer, which lasts longer than traditional glass thermometers.
Which thermometer should you use for melting wax?
There are many types of thermometers out there, but few are really suited for candle making.
This is the number one choice out there; it is ideal for melting wax. The range of temperature this thermometer can measure goes from -18 to 104 Celsius and Fahrenheit. With its easy-to-read dial type with a 300mm long steel probe and its adjustable pan clip, you can easily lower or raise according to your needs and the depths of the vessel.
A candy thermometer is arguably the most used thermometer out there when it comes to candle making. It covers temperatures ranging from 100°F to 350°F (or 38°C to 177°C), which is the range you only need to know. Basically, having one that shows more is not going to help you cause you would not want to know what happens after that.
Another thermometer that gets the job done is the deep-fry thermometer. With its 2-inch dial and its 12-inch long probe, the temperature it can measure starts in the 50°F and goes to the 550°F range. Although it can measure much higher temperatures than the previous, this thermometer is very effective at measuring temperatures for candle-making.
The digital thermometer is equally very common among candle makers, like the Candy thermometer. It can be used for many other types of tasks thanks to its broad digital range, making it perfect for melting wax. Working with a digital thermometer also has the advantage of switching from Fahrenheit to Celsius and vice versa.
Can you use a meat thermometer for candle making?
The meat thermometer has a much more temperature-limited range and is therefore not suited for making candles. When cooking meat, you don't need a really high temperature (between 130°F to 190°F). However, when it comes to making candles, you want to make something that requires a hotter temperature; this is where your meat thermometer will fail.
How do you read the thermometer correctly?
If in case you went with a digital one, you could easily switch between Fahrenheit to Celsius or Celsius to Fahrenheit. You would wonder why this is important and why I am mentioning this at all.
It is highly recommended to go for both scales because, when you buy ingredients, they might be written on both scales, and thus to avoid confusion, I would recommend simply going for a digital one.
Of course, you can avoid it by buying ingredients that are measured with just the scale you are familiar with, and in case you have no choice, just write it down and convert it. After a time, you will see, just like anyone else, that if you had paid just a little more, you would have a much easier time.
How to make candles without a Thermometer
Candles have been around for ages, and back then, there was no such thing as thermometers. What this means for us is that you technically could make candles without them. However, I think it's important to note that this was because they had no other choice, and they had to go through a lot of testing and failures to reach a point where they could do this by eyeballing it. But if thermometers were a thing back then, I am pretty sure they would've been used.
I did mention that thermometer is a must when it comes to candle making, but if you are relatively new to the process and don't want to spend money on a thermometer, there are some alternatives you can use.
To make candles without a thermometer, you can simply gauge the temperature by making sure your wax has melted. This should be around 180-200 degrees. Your melted wax must be clear because this indicates that it has perfectly melted.

Microwave:

You could use a microwave to melt your wax. Of course, depending on the amount and the type of wax you have, the amount of time may vary. This means you'd need to test to know the timing and temperature. I do not recommend this method, but it is still the last result alternative.
Put the wax in the microwave for 3 minutes and check if all the wax in the jar has melted. If not, put it back in and add another 20 seconds till you get them all melted. Be cautious when using this method, as the jar and the wax are extremely hot, so use potholders when you remove the jar.
Using the stove:
You could use a stove to melt them slowly (much more recommended), place the wax flakes into a big pan (a saucepan should do fine), and wait for them to melt. This method is much easier to control, and it was also the method used for ages before any thermometer was invented.
This is very similar to what you would do with cooking, check if the wax has melted with occasional stirring until all has melted. This method requires you to always be on it, so leaving your pot to do something else is not an option.
This is the least preferred method, but it is still an alternative. I would only recommend this if you are only going to melt wax once and want to see how the process is. This way, you would not need to invest anything else outside of the ingredients you need.
Conclusion
I would not recommend making candles without Thermometer. Even if you are a veteran, having the exact temperature to pour your candle is critical to have the perfect end product.
If you are not serious and want to try, you could use the abovementioned methods. However, I think there are enough horror stories on the internet of people who did not take the proper safety precautions and ended up either burning themselves or others.