You know that a relaxing bath is the best way to end your day, but you're tired of using boring and uninspiring bath bombs. You want to treat yourself, but you don't know the best bath bomb for men. 
Whether you're seeking a fun hobby, saving money, or pursuing a new business venture, our step-by-step guide makes crafting spa products enjoyable and easy, perfect for hobbies, saving money, or starting a business. Explore 126+ recipes, from soaps to lotions, with our beginner-friendly Quick Start Guide. Ditch store-bought products with unknown chemicals and embrace personalized, high-quality creations that cater to allergies and sensitivities using The Handcrafter's Companion.
There are so many choices out there! How do you choose? Should I get one that smells good, or is this one supposed to help my skin? What's the difference between a bath bomb and bath fizzy anyway? And then there are all of these scents – which ones should I try first?!
Are there bath bombs for men?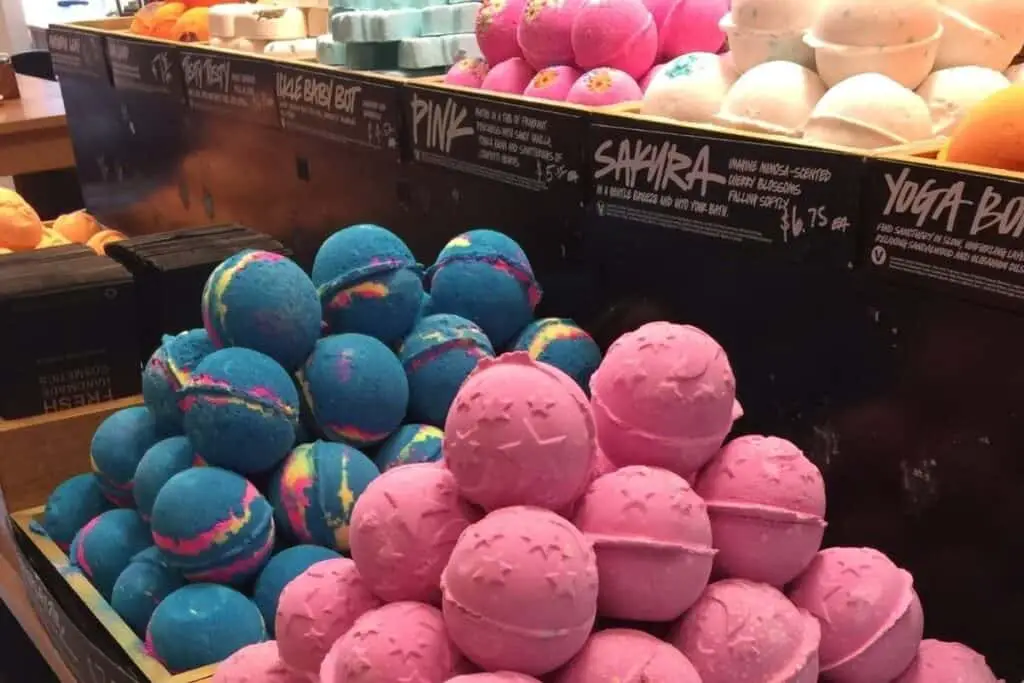 The cosmetic and man grooming industries have advanced considerably and the way of thinking. Men can enjoy bath bombs just like women do.
The cosmetic and man grooming industries have advanced considerably, which means that many options are available for both genders, including scented or color-changing varieties. Thus, it is possible to find bath bombs that have a more "masculine" approach, such as neutral and mono-colors.
Some companies have developed bath bomb sets specifically for men. They're usually found in sets with multiple bath bombs, and some of the most common scents include the following:
Peppermint
Lemon
Ocean
Mint
Green tea
Eucalyptus
Black pepper
Rosemary
Of course, the options are almost infinite, and you can also find a combination of various scents. Furthermore, these bath bombs are often equipped with agents that will easily soften and moisturize your skin.
However, the best part of these bath bombs is that they often include extended-release features, which allow you to enjoy the "fizz" that characterizes bath bombs for a longer period than regular bath bombs. 
How to make bath bombs for men
Making a bath bomb for men is not different from making regular bath bombs. Here we describe a recipe that you can try at home if you enjoy DIY projects—making this bath bomb will take you about 10-20 minutes. 
Materials needed
This recipe follows the traditional bath bomb formula along with a unique combination of scents. 
Half a cup Epsom salts
Half a cup citric acid
A spray bottle of witch hazel
Mint essential oil – Five drops
Lemon essential oil – Five drops
Sandalwood essential oil – Five drops
Cedarwood essential oil – Five drops
Rosemary essential oil – Two drops
As an optional ingredient, you can add a colorant to the recipe. It can make the bath bomb more personalized, but it's not a crucial ingredient (just make sure to the right type of colorants).
You will also need a mold for bath bombs to be able to put everything together! You can buy them or make your own mold. 
What to do
Here's what you need to do to make a manly bath bomb or shower fizzy. 
The first step is to combine the baking soda with the citric acid and Epsom salts. Use a large bowl for this because it will make things easier. 
Next up, add the essential oils into the mix and stir it until they're well-mixed. If you're using a colorant, you can a few drops until you reach the desired shade. You don't need to add color, but doing so will add a better touch to the bath bomb.
Use the witch hazel spray bottle and spritz the bath bomb mix a couple of times. Then, start mixing everything with your hands. Try not to make the mixture so wet as it may start fizzing and dripping.
Add the mixture to the mold and pack it as tight as possible. You can overfill half of the mold during this step to obtain a rough-hewn appearance.
You now need to let the bath bomb dry overnight. You'll notice that the bath bomb is ready once it feels steadily firm. You can remove the mold, and voila when that happens – you've now made a bath bomb.
Once the bath bombs are ready, you can keep them in a jar or an airtight container to keep them safe. It will work as regular bath bombs do – you can put them in the water, and they will start fizzing and releasing the scent slowly as the bath bomb dissolves. 
Best 9 Bath Bombs for Men
If you'd like to know what bath bombs for men are available in the market at the moment, here we have some of the most popular options you can choose from.
If you or someone you know enjoy taking relaxing baths from time to time, this bath bomb set of nine can be the perfect gift for them. It is characterized by its high quality and strong but relaxing scent. 
You can find some of the fragrances we've mentioned within the included scents, including eucalyptus, peppermint, and musk. All of the scents included on the set are natural, and the bath bombs are 100% vegan.
This bath bomb set of three is perfect for guys than enjoy soft scents. It combines multiple oils, including shea and cocoa butter, safflower oil, and jojoba oil, as well as many other ingredients that are great for your skin. 
The Spa Pure Cool Water Fizzies are vegan-friendly, too. It is perfect for people with dry skin.
This bath bomb gift set is the perfect present for any important man in your life. It includes different scents, such as aloe and orange (and other citruses), fresh mint, black tie, honey oatmeal, and other original scents, like "deep forest" and "music festival."
This product is cruelty-free and vegan-friendly.
This set of six tennis ball size bath bombs (five ounces each) is another good option if you want to give a gift to a special man in your life. Each bath bomb has a different manly scent in the pack, including "backyard griller" or "whiskey," as well as eucalyptus and "tobacco and leather."
Here we have an affordable set of four organic bath bombs for men. It includes a combination of ocean and mint scents, too. These bath bombs are perfect for smoothing and rejuvenating your skin. These bath bombs are perfect for taking a bath after a long gym session.
If you or someone you know is constantly feeling stressed, this bath bomb set can help them feel relaxed for a long while. These are massive, premium bath bombs that give off a relaxing, amazing smell that will turn your bath into the most relaxing experience ever.
These bath bombs are available in multiple presentations. You have the option to choose between a variety pack or the following scents: lavender, calm refresh (no color), eucalyptus and tea tree; lavender, lemongrass, and coconut and the "my sore muscles" 12-bath bomb pack for more relaxation.
This set includes 12 organic bath bombs of different scents. These bath bombs include several rejuvenating, relaxing, and healing components, like shea butter and dead sea salt. Furthermore, the premium-grade essential oils will make sure that you enjoy an amazing scent during your bath.
This bath bomb set is perfect for relaxation, aches, and other ailments that you may suffer after a long day of work. It includes two scents, Lavender and Mint & Hemp. Both of these scents have relaxing properties that will help you feel relief after a long day.