Melt and pour soaps are fun to make, especially when you are experimenting with colors. However, some colorants don't work well with melt and pour soap, and food colorants may be one of them. 
Can you use food coloring to color soap? Using food coloring in melt and pour soap will not work. It will leach and bleed out into the surrounding soap base. This will make it really hard to see a definition between the colors. Also, because food coloring is soluble in water and oil, some colors may not survive the saponification process.
Whether you're seeking a fun hobby, saving money, or pursuing a new business venture, our step-by-step guide makes crafting spa products enjoyable and easy, perfect for hobbies, saving money, or starting a business. Explore 126+ recipes, from soaps to lotions, with our beginner-friendly Quick Start Guide. Ditch store-bought products with unknown chemicals and embrace personalized, high-quality creations that cater to allergies and sensitivities using The Handcrafter's Companion.
Soap making is not just about oils and molds, but colors and designs sometimes play even a more significant role. If your design and colors are not attractive enough, chances are you'll have a hard time selling your products. To make beautiful colored soaps, you need to find alternate yet sustainable ways. Sometimes, people tend to use colorants that are not really suited for soap making, and one of them is food colorants. This happens probably because food colorants are considered safe. But unfortunately, they are not fit to be used in melt and pour soap.
Can I Use Food Coloring In Melt and Pour Soap? 
First, I think it's important to note that melt and pour base is a water-soluble based product. Why? This is one of the main reasons why food coloring can bleed. Bleeding takes place when there is a lack of barrier to make a protective wall. Because of it, the color embedded in the layers of soap leeches or leaks out into the surrounding soap base. Which eventually will make your M&P soap bar look like a mushy color blob. 
So food coloring is useful in many other crafts, but unfortunately, melt and pour soap is not one of them.
In case you wish to go for it anyway, here is what happens: 
After a few rounds of using the food-colored soap, the water-soluble color will start leaking out through the melt and pour soap. The color will quickly transfer to your skin and ruin both the soap and your hands in this process. 
Imagine your customers sending you a picture of their hands. You'll probably have a lot of explanations to do. 
So, it is crucial for you to follow the basics when it comes to soap making. If you color it the right way, you can have a stunning bar of soap in your hands and very happy returning customers for years to come. 
NOTE: Similar to food coloring, it's best to avoid melted crayons. Melted crayons, candle dyes, and paint are not safe for your skin and do not effectively color your soap.  
If in case you have already used food coloring, use the soap yourself or throw them away, but don't sell them.  
What Type of Coloring Is Best for Melt and Pour Soap?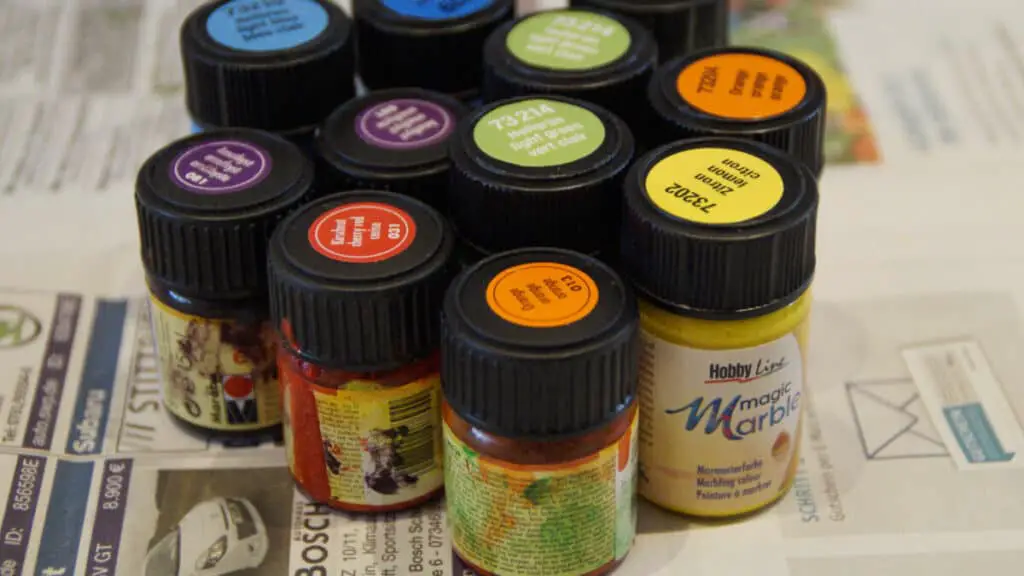 You can use natural pigments to color your soap safely. You can look online and find other options like micas, liquid pigments, glitter, mineral pigments, etc.  
Check out the current prices on Amazon.
The only need to make sure you're using a 'non-bleeding color for the melt and pour soaps. Oil-based colors are perfect for making unique and colorful soaps. Pick options that color the soap through dispersion. 
In other words, these colors do not mix into the soap as much as other coloring options. You can use all oxides, a few pigments, and oxides in liquid to make colorful soaps. 
Using Minerals to Color Soaps 
Check out the current price on Amazon.
Minerals are a fun and genius way to color the melt and pour soap. The mineral pigments occur naturally and look very beautiful in the soap. 
Rust creates a ruddy orange pigment when iron comes in contact with water. You should know that most of the mineral colorants are developed artificially in labs. 
Mineral colors are great alternatives to natural, homemade colors. After buying mineral pigments, you have to follow the directions mentioned in the package. Don't try to overdo the mineral pigments, as they can stain your sink, mold, or bathtub. 
Natural Colors 
I am a true believer in going all-natural, especially if it's for our skin. And natural coloring is similarly a better option when it comes to soap making. They are very gentle on the skin and come with the least possible side effects. Listed below are all the ways you can obtain natural colors for your soap-making session. 
Brown 
Cinnamon- You can use cinnamon powder to bring the natural brown color to your soap. Avoid using cinnamon oil as it can burn the skin and damage it. It will give your soup a gorgeous light brown color. 
Cloves: If you wish to have a dark brown color, go ahead and use cloves. The cloves will additionally give your soap a strong aroma. 
Beetroot powder: The beetroot powder will give your soap a somewhat greyish to brownish tone. The beetroot powder does not retain its natural pink color. 
Coffee: Coffee is a great option for your soap. Use a few specs of instant coffee to color your soaps and add an exfoliating effect. 
Cocoa powder: The color tone brought by the cocoa powder depends upon the concentration. 
Orange 
Paprika: Paprika will give the best results when you infuse it with oil and then strain the excess. It will provide your soap an exciting orange color. 
Annato- This is another ingredient that can be used to dye soaps to orange. 
Purple 
Hibiscus Powder: Flowers are one of the best ways to color and decorate the soap.
Alkanet Powder- It not only colors the soap beautifully, but it's believed to have anti-acne properties. They can heal quite a lot of skin issues. This powder will make the deep soap purple in color or bluish purple. 
Red Sandalwood Powder- Depending on the soap's pH level, you can give your soap a purple-red color. 
Black walnut hull- This ingredient will result in dark purple specs
Green 
Alfalfa- Add this ingredient after drying and grounding 
Spirulina- This is a bluish-green ingredient that is going to leave a unique green color to your soaps. 
Chlorophyll- It will give your soap a bright green color 
Burdock leaf- Infuse it with oils for the best results. 
Dandelion leaves- You can pluck a few dandelion leaves from your yard and grind them.
Basil leaves- Crush a few basil leaves and include them in your soap base to give a beautiful green hue to your soap bar. 
Blue 
Woad- Woad is commonly available in the form of powder. It has a lighter shade of blue. 
Indigo Powder- indigo powder can be used for making deep blue soaps. The deep blue color looks flawless and beautiful.
Black
Activated charcoal- This ingredient is very widely used to color soaps and cosmetics. It gives a touch of black to a grey color to your product. You can add this to exfoliating benefits as well. 
Yellow 
Saffron leaves or powder- Saffron has remained one of the top ingredients in beauty products and soap. 
Calendula- You cannot deny yourself the medicinal benefits of this ingredient. You will get a soothing yellow color with calendula powder. You can use the calendula flower instead of powder. 
Turmeric- You will find turmeric straight from one of your kitchen shelves. Sprinkle a little turmeric on the soap base, and there it is. 
Marigolds- If you want an exfoliating soap bar, make sure to use marigold. Marigold is the best way to turn your soap base into yellow.
Ginger- If you don't like the striking yellow color, you can always use ginger. 
Red 
Madder Root- Add a few specs of this powder, and your soap will be as vibrant as a red apple. Sometimes the madder root also gives a muted pink color if you add it in a small amount. 
Moroccan red clay- If you are looking for orange or red color, you can use the Moroccan red clay. The Moroccan clay can draw out the impurities from your skin. 
How Do You Color Melt and Pour Soap? 
Knowing how to color your soap correctly will result in not only gorgeous-looking products but also a much less frustrating experience. 
Here are a few types of colorants and how to implement them that are perfect for M&P soap:
Natural Colorants
Check out the current prices on Amazon
When you are using natural colorants, you need to follow a predetermined method. Add a teaspoon of natural powder with one tablespoon of 99% isopropyl alcohol or distilled water. 
Next, you need to add a teaspoon of dispersed color to the melted soap base. You can increase the concentration of powder as you like it. 
Micas 
Check out the current prices on Amazon
If you plan to use micas, you should know that they are a little more complicated than natural colors. You have to start by adding mica straight to the melted soap base and stir vigorously until it thoroughly mixes. 
In case you spot a few bubbles in the solution, pour a bit of alcohol and continue stirring. Ideally, you will require up to half a teaspoon per pound of soap. 
There is an alternate way to mix the color more quickly and easily. Another way is to mix a teaspoon of mica with 1 tablespoon of 99% isopropyl alcohol. Finally, you have to mix 1/4th of a teaspoon of dispersed color into the melted soap. 
Final Thoughts 
By now, you know that food coloring and soaps are not a good combination. Hopefully, you will be able to make the soaps with your favorite color. Mix and match a few colors, and you will get stunning results. Happy soaping!