If you are thinking of switching from store-bought soap to a handmade one, the very first question you probably would have would be, what's the difference? 
Store-bought soaps are mostly made with chemical ingredients such as synthetic lathering agents, chemical detergents, and hardeners. In contrast, handmade soaps are made with natural ingredients such as lye and oils. Also, Glycerin in store-bought soaps is mostly removed for shelf stability, but never with handmade soaps.
Whether you're seeking a fun hobby, saving money, or pursuing a new business venture, our step-by-step guide makes crafting spa products enjoyable and easy, perfect for hobbies, saving money, or starting a business. Explore 126+ recipes, from soaps to lotions, with our beginner-friendly Quick Start Guide. Ditch store-bought products with unknown chemicals and embrace personalized, high-quality creations that cater to allergies and sensitivities using The Handcrafter's Companion.
Most of us now have a general knowledge when it comes to Store-bought soap. We know that these soaps often contain chemical hardeners, artificial fragrances, and foaming agents, and they tend to work as described, without hopefully irritating your skin in the process.
As against this, handmade soaps are made purely with natural ingredients that help you to keep your skin soft and supple. 
In order to get these benefits from handmade soaps, it is vital to pick the right ones. 
This means a soap with a label that says natural does not guarantee that a bar of soap is truly handmade or natural. They sometimes can simply be store-bought soap in disguise. 
What is the Difference between Handmade Soap and Store-Bought Soap?
There are a couple of things that set the handmade soap apart from the store-bought soap. However, arguably one of the most important differences is that handmade soaps are that it contains Glycerin. This Glycerin settles between the soap molecules in handmade soap to retain the moisture that keeps your skin soft and breathing.
Most conventional store-bought soaps do not contain Glycerin because this very crucial component is removed later in the process. Instead, they would transfer all the Glycerin to lotions and moisturizers, which work to return the skin's moisture.
Another massive difference between the two is the type (or at least quality) of fragrance used. In store-bought soaps, to lower the costs, they add artificial fragrances. On the other hand, when it comes to handmade soaps, they are mostly made with pure essential oils and fragrances. 
Price is another big difference, at least depending on the company or individual selling them. As previously mentioned, store-bought soaps are made in a massive factory, with ingredients that are, in most cases, not natural or entirely artificial. All of this reflects in the price, which usually is quite low. 
Handmade soaps are not only manufactured on a much smaller scale, but they are also, yeah…handmade! Adding the labor costs to it and the costs of using natural ingredients, you will usually pay much more.
Is Handmade Soap Better Than Store-Bought Soap?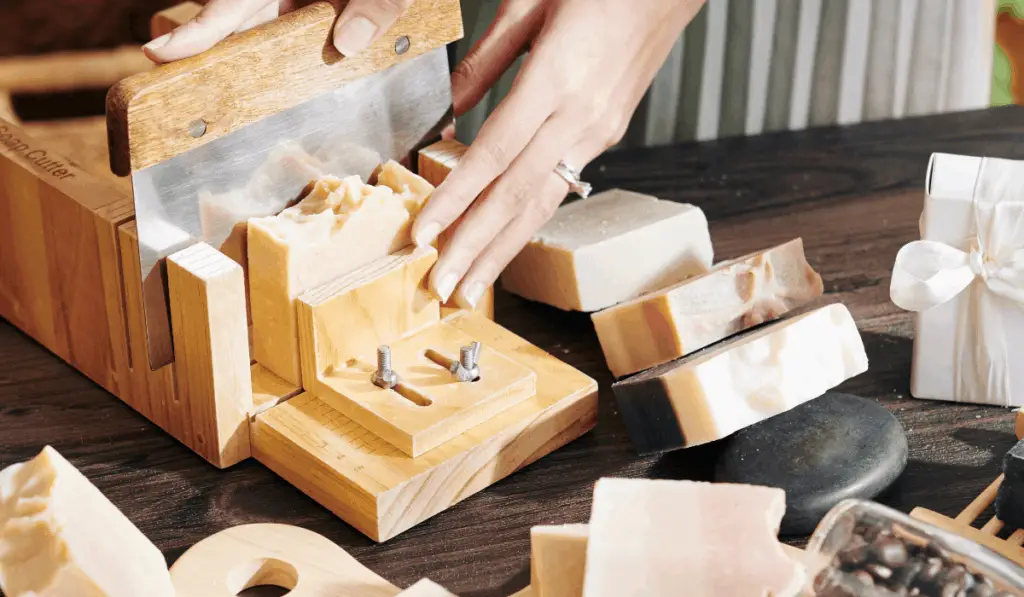 The short answer is yes. Handmade soap is, without a doubt, better than store-bought ones. However, all these benefits mean nothing if you pick the wrong handmade soap. We briefly touched upon this subject earlier.
The catch is in the word 'natural.' Many companies use the tag 'natural' to bring consumers to buy their supposedly 'handmade soap.' In reality, these soaps are made in bulk and often possess the same properties as store-bought soaps do.
So the question is, how can you pick the right handmade soap? 
Look for an Organic Tag
Even though many handmade soaps come with the tag 'natural' attached to it, this tag does not have any binding quality standards attached to it. So this means that handmade soap just is a commercial soap in the guise of handmade soap.
Instead, what you should look for is the 'organic' tag. They are regulated by the USDA and come with quality requirements and restrictions that keep the product authenticity. 
Soap-Making Method
How the soap is made can also make a big difference in the end quality of the product. Look for a soap that is made using the traditional soap-making way. These include a hot process method and a cold process method. Both methods use lye, essential oils, Glycerin, and natural colorants to set soap into some pretty, colorful molds.
On the other hand, store-bought soaps are made on a large scale in the same batch of soap bases. An assembly process with several machines is used to set these "soap" into molds. They use various fillers to complete each process. The result is often a mold of artificial cleaning ingredients.
So the next time you buy a bar of handmade soap, look for indicators that it's made using the traditional soap-making method.
What are the Benefits of Store-Bought Soap?
With that being said, several people still prefer store-bought soaps over handmade soaps. Here are a few reasons why.
Cost-Effective
Yes, they are cheaper and sometimes so cheap you want to ignore the fact that they might irritate your skin. In fact, many people prefer this as it remains a long-term option that saves a lot of money.
Accessible
Handmade soaps are often free of preservatives and contain Glycerin. For this reason, they are usually not stocked in most stores. For last-minute errands, store-bought soaps remain the most accessible (and can also remain on the store shelves for a much longer time). 
What are the Benefits of Handmade Soap?
If you give importance to your cleanliness and skincare routine, the benefits are manifold. Here's why you should pick a handmade soap over a store-bought one.
Great for Your Skin
As previously mentioned, Glycerin is the one that makes your skin moist and makes it stay soft and supple for a long time? This alone should be a reason enough to buy handmade soap. 
Handpicked Ingredients
With handmade soap, you can expect a process where ingredients are carefully chosen to maximize the benefits for you and your skin. Some contain accents like flower petals to add to the therapeutic and aesthetic benefits of the soap. What's better than a healthy soap that also looks pretty?
Ensures Long-Term Health Benefits
Because handmade soap uses natural ingredients, most of these soaps tend to help in the long run. 
Many stores buy soap containing artificial colorants and fragrances. Many of these even have a 'can cause cancer' disclaimer. Some soaps may even ask you to avoid use when pregnant. These are things that suggest that the soap is not made for long-term use, given the health threats they can possess.
Ethical
The process of making handmade soaps often has a consciousness attached to them. They are made using the right labor, and soap makers often test products on themselves before they are sold.
This also means that these products are not tested on animals. This keeps the handmade soap ethical and harm-free.
Why Should You Pick Handmade Soap Over Store-Bought Soap?
If the above benefits haven't convinced you yet, here are a few more. Handmade soaps are often artisanally made in unique colors and essential oils. You can speak to the artisan yourself to make the right one for you.
Do you love vanilla? Pick one that is made of vanilla and a hint of cinnamon that will light up your warm bath with its fragrance and stimulating benefits. You will leave your bath luxurious, calm, and smelling like a pie.
What's better is that you can curate them to suit your aesthetic and health needs.
Endnotes
With handmade soap, the benefits are many. You will have to store them away from direct sunlight and keep them away from excessive moisture. With this, they will also last for much longer.
In a world where health and self-care are important aspects of caring for oneself, handmade soaps are better options than store-bought soaps. What's better is that you will also be doing your bit for the earth and the environment.