We all know that greasing a mold is an important step, but do we really need to grease our silicone molds too? Or can we just pour the liquid straight into it without any preparation at all?
Silicone molds don't have to be greased, nor does it need lining. This non-toxic material is non-adherent, so the unmolding process is much easier.
Whether you're seeking a fun hobby, saving money, or pursuing a new business venture, our step-by-step guide makes crafting spa products enjoyable and easy, perfect for hobbies, saving money, or starting a business. Explore 126+ recipes, from soaps to lotions, with our beginner-friendly Quick Start Guide. Ditch store-bought products with unknown chemicals and embrace personalized, high-quality creations that cater to allergies and sensitivities using The Handcrafter's Companion.
Silicone molds are an excellent material for making soap and become even more popular as time goes. But as we all know, most molds require greasing in order to avoid a sticky mess afterward. However, this might not be the case with silicone molds. This durable and reusable material is considered one of the best options out there for all soap makers.  
Why do we grease soap molds?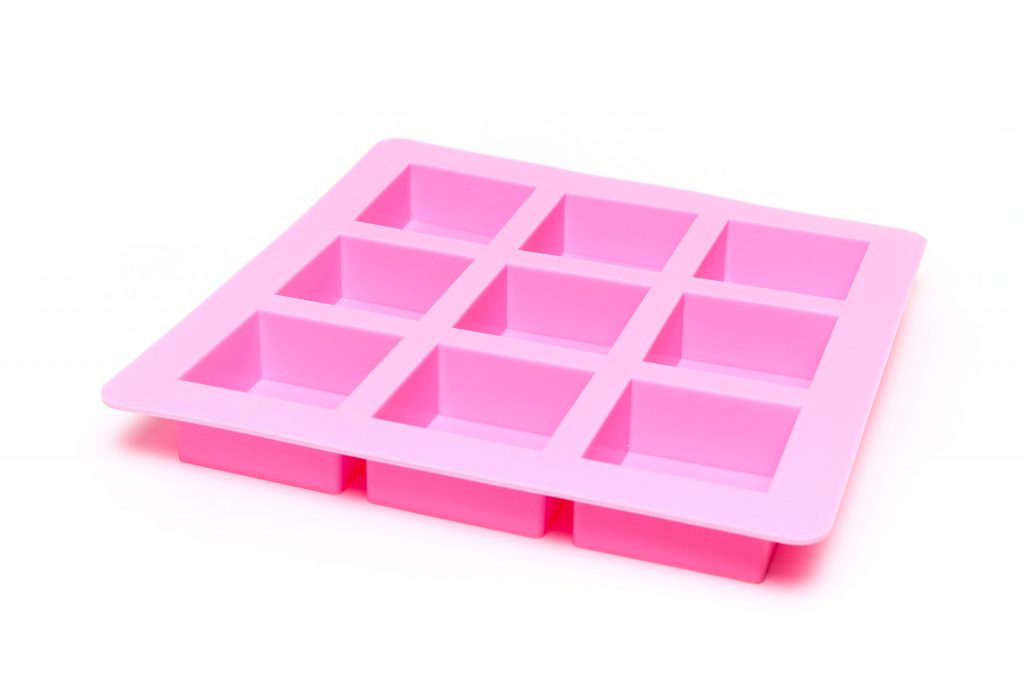 Greasing soap molds is a necessary step and a great way to avoid losing big chunks of your batch of soap when it cools down and hardens. Not greasing them may cause leftover moisture, which inevitably will lead to loose designs, or worse, it may start oozing.
If you are not a big fan of lining with parchment paper or freezer paper, then greasing is the second-best solution. Most people go for greasing as it's much easier and faster. Some say that you can also grease even if you line your mold, but that is unnecessary. If you line your soap molds, you don't have to grease them.
It's also worth noting that your soap needs from 24 to 48 hours to be ready to be unmolded. So before you take any action, make sure that you respect the curing time.  
As for silicone molds, you don't have to grease them as these materials are non-adherent, so the unmolding process is much easier.
How do you keep the soap from sticking to silicone molds?
Silicone is supposed to ease the unmolding process in soapmaking. However, your soap may stick to your silicone mold from time to time because you haven't waited long enough for it to harden or any complications regarding the structure.
It's not that easy to determine the real reason why this happens. We should also note that each person uses a different recipe, making it even harder to pinpoint the problem. 
Still, one of the following solutions can be helpful in case you keep on having sticky soap:
Forcing the gel phase
Gelled soap is harder; therefore, much easier to unmold. You can force the gel phase by heating your soap with a heating pad or an oven process until you notice that your soap has gelled completely.
Use clay.
Clay is known for absorbing water quickly. Therefore, using it in your soap can accelerate the hardening process. Clay also has other benefits. Many people use it as a colorant, but it actually really shines when it comes to unmolding your soap.
Use less water.
Water is necessary for the soapmaking process, but you can discount part of it if you'd like to make harder soap. If you want to use less water, you can double the amount of lye so the soap can harden easier.
Suppose that your current recipe requires you to use 5oz of lye. In that case, utilizing only 10oz water should help you unmold the soap from the silicone mold once it has cooled down.
If you still have the sticky soap, try discounting more water from the recipe next time. It's a trial and error process, so it might take a while till you figure out how much water and lye you should use in your recipe to ease the unmolding process.
If you're using linoleic and linolenic acids, try replacing them.
Soaps high in linoleic and linolenic acids have been known to make stickier. Not do they cause the soap to be stickier, but they will also make them sweat. These agents are usually found in sunflower, safflower, or canola oil, to mention a few. 
So, simply replacing the oil with avocado oil or olive oil, for example, might be worth checking out. Alternatively, you can also use oils high in oleic acid.
Sodium lactate is helpful too.
Sodium lactate is excellent for hardening the soap. Therefore, adding one teaspoon per pound to your lye solution will help you unmold much faster and easier.
Salt
You can also use fine sea salt per every pound of oil to the lye solution. Just make sure to stir it until it has dissolved completely. 
Wait for a little longer.
If you're noticing that during the first 8 hours (for instance), your soap isn't ready to be unmolded yet, it's usually advised to leave it to rest for at least 24 hours before trying again; otherwise, you might end up with a mess. If this doesn't work, try waiting an additional 24 hours. But after that, if you're still struggling, then you might want to change your recipe or go back and recheck the solutions we've discussed above. 
Extra tips
Many soap makers use some shortcuts, such as putting their soap in the refrigerator for half an hour when they see that after 24 hours, their soap insists on being stuck. Then, thaw it for a couple of minutes, and try to take it out again.
You can also try to turn the mold over and run warm water over it. Once done, press gently through it and try to take the soap out of the mold. This solution is only applicable if you made sure to wait long enough(an extra 24h in this case). 
If your soaps have been sticking to the mold too frequently, you can try coating the mold with mineral oil or any other unsaponifiable fat before pouring the soap batter into the silicone mold. Try your best to apply it sparingly, ensuring to spread it through the whole surface. 
What do you use for greasing soap molds?
Before answering this question, it is necessary to note that saponifiable fat will saponify if you use it to grease your soap molds. Therefore, you should use unsaponifiable fats, like mineral oil, to grease your soap molds. Cooking spray is another option you can choose to grease your soap molds.
Silicone molds don't need to be greased. However, if you're not going to gel your soap batch, you can add a thin coating to the silicone mold to avoid any potential problem when it's time to unmold the soap.
Can any silicone mold be used for soap?
Absolutely! You can use any silicone mold you find in local stores or on Amazon to make soap. This way, you will be able to make fun shapes and forms that will help you unleash your creativity even more. Most silicone molds found in today's market are inexpensive, so you can be sure that you will be able to make soap with fun shapes for quite a while as they're extremely durable, too.